Depotium Mini-Entrepôt - Pointes-aux-Trembles
New! Contact-Free Storage Rentals.
15949 Rue Sherbrooke Est, Montréal QC H1A 1E3

24 hour security

Moving supplies

video surveillance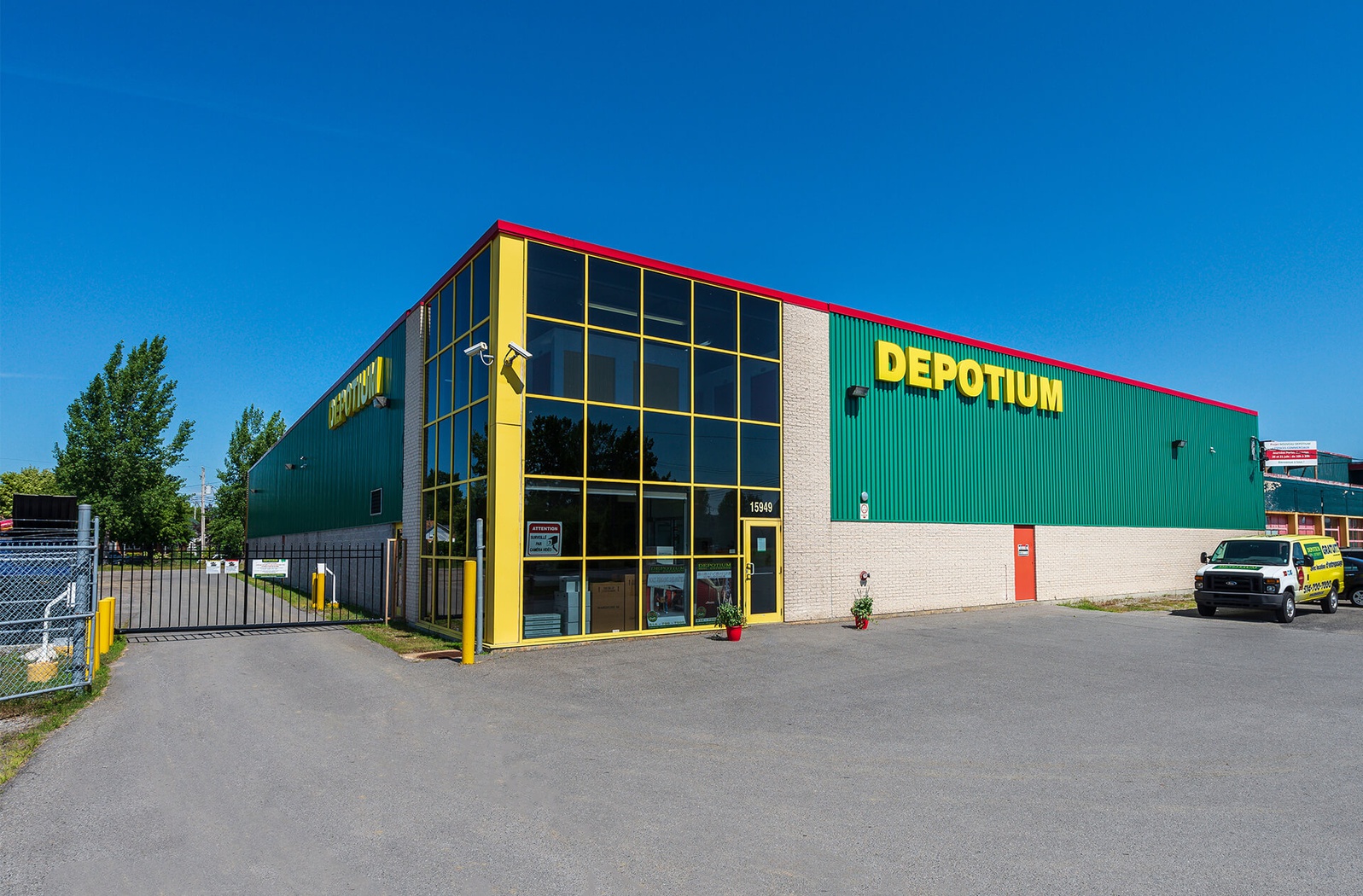 Contact-Free Storage - Rent Online or Over the Telephone!
Best Rate (Based upon availability)
$27 per week
Best Rate (Based upon availability)
$32 per week
5'×15'
75 Square Feet
Call for today's availability
* Minimum four week rental. Offers are valid for new clients only, not applicable to unit transfers, may not be combined and are based on availability. Prices may be different due to rounding. The offer does not apply to mailboxes or portable storage containers and cannot be combined with affinity programs or event promotions.
Reservation Centre
| | |
| --- | --- |
| Day | Hours |
| Monday | 8am to 10pm ET |
| Tuesday | 8am to 10pm ET |
| Wednesday | 8am to 10pm ET |
| Thursday | 8am to 10pm ET |
| Friday | 8am to 10pm ET |
| Saturday | 9am to 7pm ET |
| Sunday | 9am to 6pm ET |
Store Hours
| | |
| --- | --- |
| Day | Hours |
| Monday | 9am to 6pm |
| Tuesday | 9am to 6pm |
| Wednesday | 9am to 6pm |
| Thursday | 9am to 6pm |
| Friday | 9am to 6pm |
| Saturday | 9am to 5pm |
| Sunday | Closed |
* Hours are local time unless stated otherwise.
Gate Hours
| | |
| --- | --- |
| Day | Hours |
| Daily | 6am to 10pm |
† 24 hour access available on request.
Client Testimonials
"Megan is extremely helpful! I am new to renting a storage facility and she's been awesome to work with. I've had pleasant interactions with the manager, and all the staff who work at this facility. The prices are way better than any other facilities I've checked out and overall great experience so far. Thanks for making it easy!"
- Cee Jay
"Excellent Staff, Very friendly and helpful, made the experience of moving my son so easy, highly recommend this place."
- Russell Arnott
Contact-free Rentals Are Easy and Secure!
While our stores and team remain available to support you, we now offer contact-free rentals which means that you are able to move into your rental unit while maintaining a physical distance. In this case, our store team will confirm your government issued ID via email, ensure your paperwork is in order and issue your personal security code over the telephone.
As an added convenience, we are happy to place your required boxes and moving supplies directly into your storage unit, in advance of your move-in.
Reliable Storage in Pointes-aux-Trembles
Depotium is your space-saving solution in Pointes-aux-Trembles. Our facility is situated at the corner of Rue Sherbrooke and Boulevard Gouin, near Pont Le Gardeur. We are the go-to facility for residences and businesses in Bout-De-L'ile and its surrounding communities. At Depotium, you don't have to go out of your way to save some space.
Storage and Parking Solutions
We make self-storage affordable. For a low weekly premium, you get access to your own storage unit. Our storage spaces start at 25 square feet, perfect for storing small pieces of furniture and office equipment. Need more space? You can choose other sizes spanning up to 200 square feet.
Depotium Pointes-aux-Trembles also offers parking solutions. You can choose between warehouse or outdoor parking. Both are on-site and secured within the facility's gated premises.
Professional Self-Storage
Your experience is important to us. At Depotium, you'll never have to worry about visiting a dirty and dark facility. Our premises are professionally maintained and regularly manned by local staff. Don't hesitate to ask our staff for help.
Our Pointes-aux-Trembles facility also includes:
Fully-Gated Premises
Choice of Drive Up or Interior Units
Climate Control for Select Units
Service Elevator
Great Everyday Service
Easy Check In and Check Out Protocol Loading Dock For Easy Move In and Move Out
Back to top